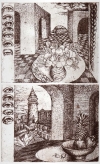 Galeri Apel presents an exhibition of works selected from Filiz Başaran's portfolio of printed engravings, produced from 1975 until recently...

Interpretations of nature and humans come to the fore in the composition of engravings created by scratching zinc and copper plates with needle points using a subtle technique in which thought and sensitivities intermingle. As women, birds, a lion, rooms, pricked needles, burnt matches, blossoms, thorny gardens, students, and soldiers tell their own stories, they offer the audience the opportunity to view a new adventure.
And in some of her engravings, the artist creates a different world by transforming them into mixed-media oil paintings.